Rupanya Jang Geun Seok (Baby and I, Bethoveen Virus) lebih tertantang untuk bermain dalam film yang tidak melulu mengandalkan packaging alias rupa ragawi aja. Setelah di gossipkan menolak peran di BBF bareng Lee Min Hoo cs. (nyesel gak yah, secara tuh drama jadi meledak dan hits berat), uri dongsaeng Geun Suk malah bermain di sebuah film serius yang di angkat dari kisah nyata berjudul 'Itaewon Murder Case' (Itaewon Salinsageon) atau di kenal juga dengan Burger King Murder Case (karena pembunuhannya terjadi di restoran cepat saji Burger King di daerah Itaewon).
Film yang masih dalam proses penggarapan ini bercerita tentang pembunuhan yang terjadi tahun 1997 yang menimpa mahasiswa korea di daerah Itaewon, dimana lokasi tersebut terdapat banyak sekali warga asing/non korea karena dekat dengan pangkalan militer Amerika. PAda kenyataannya dua tersangka yang merupakan warga Amerika nyatanya dapat pulang kembali ke negaranya tanpa hukuman yang setimpal. Namun di film ini, Geun Seok bakal berperan sebagai anak berandal yang menjadi salah satu tersangka pembunuhan tersebut.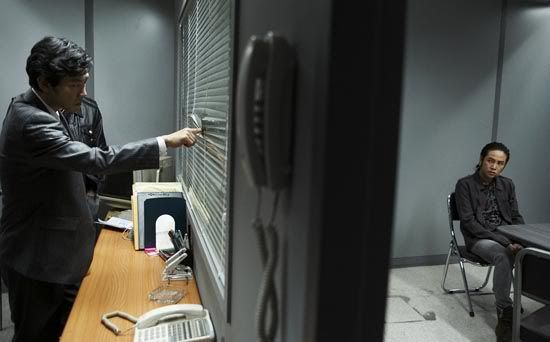 Jang Geun Sok bakal di pasangkan kembali dengan aktor yang pernah main bareng dengannya di film Happy Life, Jung Jin Yeong. Itaewon Murder Case di jadwalkan tayang sekitar bulan September 2009.
Setelah film terakhirnya bersama Cha Tae Hyun dalam Baboo (stupid). Ha Jin Won yang kita kenal lewat serial drama ciamiknya bareng Jo In Sung dan So Ji Sub, 'Memories of Bali' kini tampil kembali lewat film yang masuk kedalam kategori Disaster Movie (film-film yang mengangkat kerusakan akibat anomali alam), berjudul
'Haeundae'.
Haeundae adalah nama objek wisata pantai terkenal di semenanjung kota Busan yang di film ini bakal di gempur tsunami hebat dan meluluh lantaikan hampir separuh kota. Dan seperti halnya film-film yang mengangkat mengenai bencana alam, maka di dalamnya bakal di ceritakan para survivor dan usaha penyelamatan mereka terhadap bencana alam yang datang terjadi itu.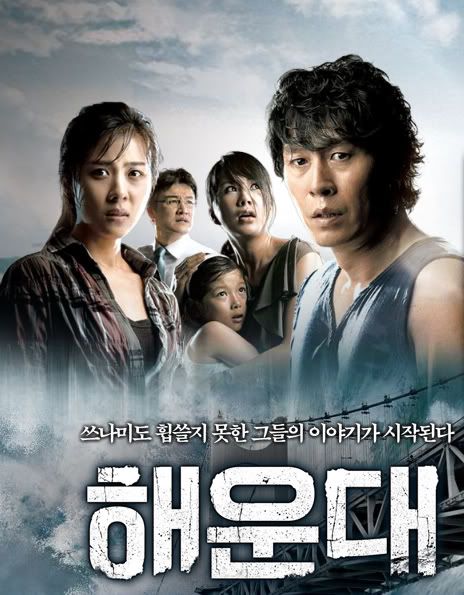 Sebelum Haundae rilis di Korea, film yang di rilis oleh JK Film CJ Entertainment telah di putar di 20 negara lain. Selain Ha Ji Won, Umh Jung Hwa (Get Carl O so jung), Lee Min Ki (Dalja's Spring), dan Seol Kyung Gu juga bakal bermain di film yang konon menggunakan efek animasi CGI langsung dari team Hollywood yang biasa menangani film-film yang membutuhkan special effect besar. Film yang sebentar lagi tayang di Korea (rilis sekitar bulan Juli) ini seperti memang layak banget untuk ditunggu.
Official website: Haeundae 2009
######
Lee Seon Kyun yang belum baru-baru ini telah meresmikan hubungannya lewat pernikahan nampak tak terganggu dengan dengan kehidupan pribadinya yang baru. Bayangkan saja, hanya dalam satu tahun terakhir ia mampu merampungkan paling tidak 2 judul drama dan 4 judul film (kejar setoran, om? hehehe). Salah satu film yang baru selesai di garap dan bakal tayang sekitar musim Gugur tahun ini adalah 'Paju'.
Film bergenre drama romantic ini mengangkat kisah seorang gadis remaja berusia 15 tahun yang jatuh cinta dengan suami kakak perempuannya yang kemudian meninggal karena kecelakaan. Paju sendiri adalah nama sebuah kota di Seoul Gadis itu bakal di perankan oleh Seo Woo, dan Lee Seon Kyun akan berperan sebagai laki-laki tersebut yang berusia 7 tahun lebih tua. Paju di sutradari oleh Park Chan ok dan merupakan film ke tiga yang ia garap.
Download behind the scene 'Paju'.
source: dramabeans n others